10 Most Promising Computer Vision Startups - 2022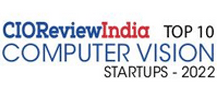 The computer vision market was valued at $14.82 billion in 2020 and is predicted to reach $27.02 billion by 2028, growing at a compound annual growth rate (CAGR) of 7.8 percent from 2021 to 2028. The demand for quality inspection, automation and rising demand for vision-guided robotic systems are driving the market growth. Automotive industry holds the highest share in the computer vision market. AI integrated with computer vision has become increasingly popular in different use-cases such as computer vision solutions in consumer drones and autonomous & semi-autonomous vehicles. With image sensors, advanced cameras and deep learning techniques, the scope of computer vision has widened to education, healthcare, robotics, consumer electronics, retail, manufacturing, security & surveillance, and numerous other industries.
Computer vision is at its nascent stage in India. Technology companies in India have not set-up much operations across computer vision, but this is changing. High-end software & hardware technology firms, IT services firms, semiconductor firms, and electronics firms are the companies adopting computer vision. In automotive and transportation sector, it is used in image sensing systems, Inc., a provider of information management solutions, offers real-time traffic management solutions to the ITS (Intelligent Transportation Systems) sector. It also provides transportation data details like radar detection, wrong-way detection, and license plate recognition systems and others.
CIOReviewIndia, in this issue presents a list of `10 Most Promising Computer Vision Startups - 2022' that have leveraged their extensive industry expertise and experience in bringing innovative solutions to the market. The following list has been prepared after being closely scrutinized by a distinguished panel of judges including CXOs, analysts and our editorial board. We recognize their valuable contribution to the ever expanding & competitive market and their ability to sustain themselves and emerge as top contestants through their reliable products and services.
We present to you CIOTechOutlook 10 Most Promising Computer Vision Startups - 2022.
10 Most Promising Computer Vision Startups - 2022
| Company Name | Company Description |
| --- | --- |
| Beltech AI | With The Advanced Computer Vision AI, Beltech AI Is Revolutionizing The Way A Smart City Functions |
| | |
| --- | --- |
| Adloid | Boosting its clients' online presence and creating an immersive experience for their customers via its web 3D rendering and web AR platform to better showcase their portfolio and keep-up with the... |
| Aindra Labs | An expert in developing Computer Vision and Machine Learning based products |
| Indika AI | which come with a visual analytics platform that helps businesses derive actionable intelligence |
| Intelligence Techsol | Working with some of the leading AI companies across the world to help them train their AI Models with high-quality training data |
| Intello Labs | Offers AI-based products and solutions for Agriculture and Manufacturing sector Envisions to improve the efficiency of the food industry and cut-down food waste by leveraging AI, ML, and computer... |
| Netradyne | Transforming the transportation ecosystem through Computer Vision and in-depth data analysis to protect and empower fleets and drivers to create a safer road for today |
| Playment | Delivering the best quality outputs for business by providing efficient labeling tools and services for ML teams worldwide |
| SensoVision Systems | A leading provider of vision-based solutions for Automotive, Fasteners, Food & Beverages, Electronics and Pharmaceutical industries |
| Streamoid Technologies | Leveraging cutting-edge technologies like computer vision, AI and ML to offer innovative solutions mainly to the fashion industry |
| Uncanny Vision | Offers an end-to-end AI-based Number Plate Recognition (ANPR/LPR) system that consistently delivers very high accuracy even in challenging conditions |