20 Most Promising Conversational Platform Providers - 2020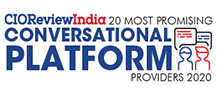 As artificial intelligence gets more ingrained in every business process, we are witnessing an increase in the number of people and types of roles designing, implementing, and optimizing conversational platforms across industries. Conversational platforms are providing interactive voice-based services to develop better relationship with the customer offering the possibility to have two way real time communication. With AI powered conversational platforms, enterprises are able to know their customers better and build a strong customer base by centralizing the fragmented customer interaction data from across channels and combining the intelligent machine automation with human expertise. Conversational AI has disrupted the digital marketing landscape; enterprises are largely depending on conversational AI platforms to communicate with their customers for marketing. Leveraging the man and machine combination and complementing each other to drive revenues by providing a means to interact with technology using conversation through natural language processing is what conversational AI is all about. Owing to its several benefits in improving productivity, businesses are doubling down on conversational platforms to offer personalised experience to their customers.
To help organizations find the right vendor, CIOReviewIndia proffers a list of "20 Most Promising Conversational Platform Providers - 2020". This compact list consists of vendors with an industry rich experience, technically adept teams and a proven track record. A panel consisting of prominent CEOs, CIOs, industry analysts and CIOReviewIndia editorial team has meticulously researched and finalized final 20 vendors who we firmly believe can assist businesses in delivering cost-effective and optimal solutions that add value to their business.
We present to you CIOTechOutlook 20 Most Promising Conversational Platform Providers - 2020.
Top Conversational Platform Providers
| Company Name | Company Description |
| --- | --- |
| Workativ | Offers conversational AI platform that enables organizations to deliver digital experience for employee support |
| | |
| --- | --- |
| Avaamo | A deep-learning software company that specializes in conversational interfaces to solve specific, high impact problems in the enterprise |
| BOT360 | Chatbot built on Micro-services platform, allowing easy integration with existing ERP, CRM or other software |
| Claritaz Techlabs | Provides a chatbot that has been engineered with the intention to give the clients an intuitive user experience |
| CoRover | Offers Chatbot as a Service (CaaS) bot, based on AI & ML to improve customer satisfaction and help businesses create competitive advantage |
| Floatbot | A chatbot development platform that allows creating DIY chatbots, voicebots, speech to text - text to speech bots without coding |
| FoodBot AI | Provides customer engagement and marketing platform for restaurants over chatbots with a loyalty program that proffers a complete integration with the restaurant's existing PoS |
| Gupshup | A bot building platform that allows bot builders to build, deploy and publish a bot in a matter of minutes |
| Jio Haptik Technologies | Enterprise conversational AI platform. It was acquired by Reliance Industries Limited in 2019 |
| JubiAI | Leverages deep-data in conversational commerce to provide bots that are deployed on various platforms with 24/7 availability and an Omni-channel experience |
| Kontiki AI | Enables businesses to deliver personalized one-on-one customer interactions in real-time executed via Chatbots and Voicebots |
| Kore.ai | Enterprise grade conversational platform is provided that can be deployed on premises or to the cloud, allowing companies to quickly build advanced chatbots |
| Locobuzz Solutions | Provides a digital citizen support management suite by leveraging AI, analytics, big data and automation to streamline customer experience |
| Senseforth.ai | Offers a conversational AI platform to help global enterprises increase revenue and reduce costs with AI-powered chatbots |
| Surbo | A chatbot platform that develops and enables chatbots to execute user intents across industries and trigger actions successfully whilst delivering a seamless user experience |
| Uniphore | Offers conversational service automation which gives customer service agents improved quality of agent conversation, automating agent tasks, automatic disposition capture and after call work |
| Voxta | Has built speech recognition engines in all major Indian languages in addition to English, and a customizable voice bot platform |
| WotNot | Provides everything from chatbot conversation design, 3rd party integrations, bot development, deployment, to analytics as well as a livechat (bot to human handover) feature |
| Yekaliva | Renders no-code conversational bot platforms, helping businesses make more human conversations with their customers |
| Youbotics | Services for conducting real-time technical video interviews with auto evaluation and scorecards are offered through personalized AI bot |