20 Most Promising Artificial Intelligence Startups - 2019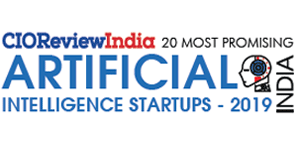 AI (Artificial Intelligence) has matured in recent years and has been adopted by more businesses while startups keep taking the market by surprise with newer, more interesting solutions. The global Artificial Intelligence (AI) market size is predicted to grow by USD 75.54 billion during the term 2019-2023. Likewise, according to the market research firm Tractica, the global artificial intelligence software market is expected to experience massive growth in the coming years, with revenues increasing from around 9.5 billion U.S. dollars in 2018 to an expected 118.6 billion by 2025. The overall AI market includes a plethora of applications under sub modules of AI such as natural language processing, robotic process automation, and machine learning.
In India, AI based startups started emerging in the year 2016. Over the next two years, the growth in the AI startup space has been staggering. A recent report estimated that around USD 87.85M was raised in the AI space in India's startup capital, Bengaluru alone. Owing to the spectacular growth in the AI sector, India has emerged as a nation with a robust ecosystem that enables AI startup professionals and founders to kick start their ventures. The Indian market offers tremendous scope for technology assisted solutions, and in recent years, it has been an active enabler for adopting analytics and AI based solutions. The push from the government to utilize technological advancements to reduce financial losses and increase output efficiency has also been a key driver for the adoption of AI applications in India.
Therefore, AI has become one of the hottest sectors in recent years, with its technology promising to revolutionize and automate every industry imaginable. Therefore, we present to you a list of 20 Most Promising Artificial Intelligence Startups - 2019. Being closely scrutinized by a distinct panel of judges including CEOs, CIOs, CXOs, analysts and CIOReviewIndia editorial board, we believe that these vendors who focus on delivering solutions that cater to industry specific requirements and generate reliable, revenue generating insights.
We present to you CIOTechOutlook 20 Most Promising Artificial Intelligence Startups - 2019.
Top Artificial Intelligence Startups
| Company Name | Company Description |
| --- | --- |
| SeaportAI | Specializes in analytics, artificial intelligence, predictive maintenance, fraud detection, and early disease detection in healthcare. |
| | |
| --- | --- |
| Aprecomm | Provides network facility for variants of smart devices via its AI Powered Wi-Fi Network both for Enterprise and Retail markets. |
| CloudSek | A provider of AI technology based threat intelligence for enterprise that focuses on customized, intelligent threat monitors. |
| Datametica | Facilitates custom AI and Analytics solutions for text analytics, voice analytics, video analytics and image analytics. |
| dbNix Systems | Builds AI & NLP powered soltuions powering Business Intelligence, Enterprise Content Management and Decision Support. |
| Flutura | An IoT intelligence company powering new monetizable business models using machine signals in the Engineering and Energy industry. |
| Jotter.AI | Uses computer vision, 3D image processing and GAN (Generative Adversarial Networks) to develop game changing digital workflows for Fashion Brands, Fashion Retailers, and Apparel Marketplaces. |
| Kanerika | Assists businesses to build technology ecosystems spanning across Big Data, Data Services, and Data Analytics. |
| LeadIcon Technologies | Builds unique Digital Customer Acquisition platform using AI, advanced analytics, ETL, and data mining. |
| Netradyne Technology | Designs a vision based platform to enhance driver safety within the commercial vehicle space. |
| niki.ai | Platforms Artificial Intelligence powered bot that enables users to search, discover, choose, make payment and complete transactions. |
| Payjo | Specializes in Bots, NLP, Digital Payments, Artificial Intelligence, Machine Learning,and Financial Literacy. |
| Pensieve Tech Solutions | Acts as the repository of organized human intelligence to give insights for precise data driven decisions. |
| RecoSense Infosolutions | Facilitates AI based data engineering solutions for search, discovery & user engagement work areas leveraging natural language processing and machine learning. |
| SocialCops | Delivers data intelligence platform for real-time monitoring systems and strategic investment decisions making. |
| Spaikaven Infosolutions | Offers a suite of AI & Blockchain based solutions for Hospitality, Edutech, Real Estate, and Enterprise Solutions. |
| SSBA Innovations | A fintech company in financial services, Taxation and Tax Advisory using artificial intelligence, data analytics and automated financial planning. |
| TOCH | An interactive video platform revolutionizing the meta tagging industry, helping monetize content by adding key time stamps. |
| Uncanny Vision | Develops optimized computer vision solutions with embedded computer vision technology. |
| upbringing.ai | Delivers a parenting platform driven by factual & cultural knowledge, combined with the efficiency and reliability of AI and expert medical guidance. |