20 Most Promising Artificial Intelligence Solution Providers - 2018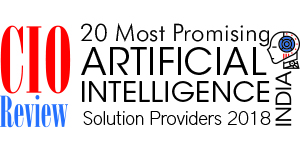 AI was coined by John McCarthy, an American computer scientist, in 1956 at The Dartmouth Conference where the discipline was born. Today, it is an umbrella term that encompasses everything from robotic process automa­tion to actual robotics. It has gained prominence recently due, in part, to big data, or the increase in speed, size and variety of data businesses are now collecting. AI can perform tasks such as identifying patterns in the data more efficiently than humans, enabling businesses to gain more insight out of their data. The global enterprise Artificial Intelligence (AI) market is to grow from USD 845.4 Million in 2017 to USD 6,141.5 Million by 2022, at a Compound Annual Growth Rate (CAGR) of 48.7 percent during the forecast period. The rising demand for AI-based solutions and platforms, and the need to analyze large and complex data sets are expected to drive the growth of the enterprise AI market.

2018 will be no different and will continue to witness the growing commercialization of Artificial Intelligence focused around robotics, cars, and other applications in enterprises as well. As AI and machine learning capabilities are being included in more and more platforms and software, they serve enter­prises in creating a competitive advantage within their respec­tive industries. AI and machine learning (including technologies such as deep learning, neural networks and NPL) encompass advanced systems that understand, learn, predict, adapt and potentially operate autonomously. The consolidation of parallel processing power, advanced algorithms and massive data sets to feed the algorithms has unleashed this new era.
By the looks of it, we understand enterprises are on a con­stant lookout for AI solution vendors who can keep them in pace with the changing norms. CIOReview India presents a list of "20 Most Promising Artificial Intelligence Solution Providers". Being closely scrutinized by a distinct panel of judges including CEOs, CIOs, CXO, analysts and CIOReview editorial board, we believe these solution vendors can help your organization de­mocratizing access to AI enabling smaller businesses, startups, and entrepreneurs to experiment with applied AI and design innovations.
We present to you CIOTechOutlook 20 Most Promising Artificial Intelligence Solution Providers - 2018.
Top Artificial Intelligence Solution Providers
| | |
| --- | --- |
| AITOE Labs | Leverages Artificial Intelligence and Machine Learning to solve business problems that require Visual Intelligence Solutions. |
| AppiVa Software | Avails AI driven collaboration platform that assists user to manage various organizational tasks/events. |
| Cere Labs | Expertise revolves around Research & Development, Artificial Intelligence, Machine Learning, Deep Learning, and Consulting & Training. |
| CogniTensor | Renders customized AI and Predictive Analytics solutions for various verticals using Deep Learning |
| Connecticus Technologies | Provides fully managed Virtual Assistant solution with capabilities such as speech recognition, AI & NLP. |
| Digiligo | Competency lies in search marketing, social media marketing, search engine optimisation, digital strategy, analytics, AR and AI. |
| Drishti Works | Builds autonomous systems for life safety, using the power of artificial intelligence,robotics and mixed reality. |
| Enterprise Bot | Designs customer service bots that communicate in natural language and understand users'requirements. |
| Flutura | An IoT intelligence company that is powering new monetizable business models using machine signals in the engineering and energy industry. |
| Kontiki Labs | Enables businesses to deliver personalized one-on-one customer interactions in realtime executed via chatbots and voicebots. |
| Kristal.AI | Delivers AI-enabled digital asset management platform that incorporates advisory algorithm. |
| Lymbyc | Facilitates self-service, predictive, insights platform that is driven by an adaptive machine learning engine. |
| Mind IT Systems | Delivers AI focused solutions via Custom Application Development, Product Engineering, Enterprise Solutions, Business Intelligence and Analytics along with Quality and Testing Services. |
| Pensieve | Builds solutions in Semantic Search with Context, Q&A on documents, Aspect Based Semantic Analysis, Recommendation Engine, Anomaly Prediction, Fraudulent Detection, and Image Classification. |
| Sayint | A provider in conversation-analytics space with deep knowledge of speech recognition, natural language processing and sentiment analysis. |
| SmartBeings Inc. | Designs AI-driven IoT products and platforms utilizing deep learning, voice-based technologies, facial recognition, security & data encryption and cloud connectivity. |
| Tripeur | Offers end-to-end corporate travel management platform that uses Artificial Intelligence and Machine Learning algorithms. |
| Visio.AI | Specializes in Computer vision, Machine learning, Artificial intelligence, and Data Analytics. |
| Wudi | Avails AI driven, plug-and-play data analytics product to derive business intelligence insights, behavioural insights. |
| Zscore Technologies | Offers a smart data management platform built using AI & machine learning to solve the problems of data quality and data management. |