20 Most Promising Artificial Intelligence Solution Providers - 2017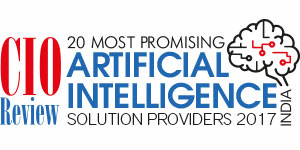 AI and machine learning have reached a critical upturn point and will further increasingly augment and extend virtually every technology enabled service, thing or application. Creating intelligent systems that learn, adapt and efficiently actrat her than simply execute predefined instructions is primarily the battleground for technology vendors. As the she volume of data generated on a daily basis creates a unique challenge, there is a need to develop new methods of analysis that focuses on the development of new algorithms and methods to improve performance. Initially, organizations deployed machine learning to surface insights, but soon these tools evolved to support decision making based on those insights. In order to incorporate ML surfaced insights into day-to-day workflows and processes, enterprise AI solutions often include managed solutions onthe edge of product offerings that reduce complexity for customers and ensure action-orientation.

Thus, 2017 will continue to witness the growing commercialization of Artificial Intelligence focused around robotics, cars, and other applications in enterprises as well. As AI and machine learning capabilities are being included in more and more platforms and software, they serve enterprises in creating a competitive advantage within their respective industries. AI and machine learning (including technologies such as deep learning, neural networks and NPL) encompass advanced systems that understand, learn, predict, adapt and potentially operate autonomously. The consolidation of parallel processing power, advanced algorithms and massive data sets to feed the algorithms has unleashed this new era.

Well acquainted with this scenario, CIO Review India presents a list of "20 Most Promising Artificial Intelligence Solution Providers". Being closely scrutinized by a distinct panel of judges including CEOs, CIOs, CXO, analysts and CIO Review editorial board, we believe these solution vendors can help your organization democratizing access to AI enabling smaller businesses, startups and entrepreneurs to experiment with applied AI and design innovations.
We present to you CIOTechOutlook 20 Most Promising Artificial Intelligence Solution Providers - 2017.
| | |
| --- | --- |
| AIndra Systems | Creates products in the domain of Artificial Intelligence and specifically in the area of Computer Vision. |
| Appier | Cross-Screen Analytics & Data Intelligence, Artificial Intelligence & Data Mining, Business & Marketing Intelligence, and Marketing & Advertising |
| Artificial Learning Systems | Builds supplement human expertise with Machines based on Artificial Intelligence |
| CloudSek | A provider of AI technology based threat intelligence enterprise that focuses on customized, intelligent threat monitors. |
| Flutura | An IoT intelligence company that is powering new monetizable business models using machine signals in the Engineering and Energy Industry. |
| Haptik | Combines Artificial Intelligence, Natural Language Process & Machine Learning to develop conversational commerce platform. |
| IceCream Labs | Provides AI SaaS solutions for Smart Merchandising,Sales & operations management using Machine Learning, Computer Vision and Natural Language Processing. |
| Infosys Nia | Artificial Intelligence platform which collects and aggregates organizational data into a self-learning knowledge base and automates repetitive business and IT processes. |
| Light Information Systems | Specializes in Artificial Intelligence, Natural Language Processing,Deep Machine Learning,and Neural Networks. |
| Netradyne Technology | Designs a vision-based platform to enhance driver safety within the commercial vehicle market. |
| niki.ai | Platforms Artificial Intelligence powered bot that enables users to search, discover, choose, make payment and complete transaction. |
| OptaCredit | Expertise lies in Machine Learning, Artificial Intelligence, NBFC, Online Lending, business and personal loan. |
| Payjo | Specializes in Bots, NLP, Digital Payments, Artificial Intelligence, Machine Learning, and Financial Literacy. |
| racetrack.ai | Delivers AI driven cloud based enterprise application for Sales operations. |
| Razorthink | Speciality revolves around Micro segmentation AI, Churn and Upsell Artificial Intelligence. |
| RecoSense | Provides AI based data engineering solutions for content personalization,search,discovery and user engagement areas with a key IP of automated metadata generation |
| SocialCops | Delivers data intelligence platform for real-time monitoring systems and strategic investment decisions making. |
| TCS | Builds IoT pltaform on public Cloud, AI backed email management for financial advisors, and developments in self driving cars. |
| Uncanny Vision | Develops optimized computer vision solutions with embedded computer vision technology. |
| Wipro Holmes | Crafts digital virtual agents, predictive systems, cognitive process automation, visual computing application, knowledge virtualizations and robotics and drones. |